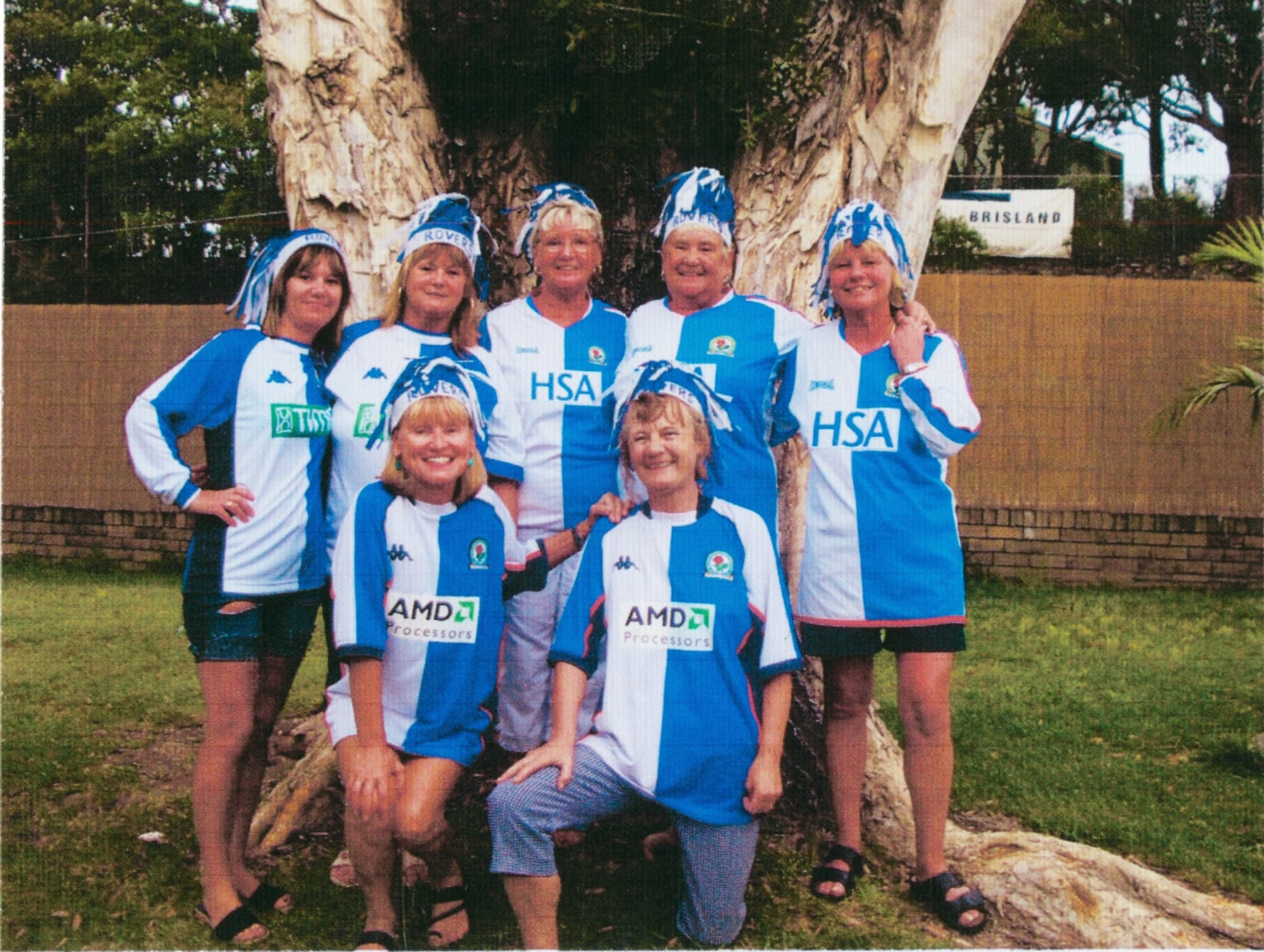 During April 2005, along with five sisters, I flew out to Australia to visit our seventh sister who had emigrated there many years ago.
This photo was taken the day before we left Australia for the long trip back home — all seven of us well relaxed and refreshed from our three-week trip.
However, during the first week of our trip, and referring back to this blue & white footie photo, half of our number had been pressed-ganged into travelling across Sydney to watch a football match, held in Cardiff, on a pub telly, dressed in this gear. Gear that had been brought to Australia in Alice's and Sally's over-stuffed, extra-large suitcases. In spite of the family turnout, dressed from head to foot in blue and white and the loud encouragement which I felt sure was an imposition on those enjoying a quiet pint, the Rovers lost to Arsenal which gave the Ozzy-filled pub much to jibe about.
That first week produced many unforeseen happenings, several arguments and more than a few flying accusations, mainly due to the influence of jetlag and disappointing accommodation. But as you can clearly see from the above image, we are still the very best of friends. The writing of the book SEVEN SISTERS DOWN UNDER, which was inspired by the many shenanigans of that trip and which set me on a path to a new career, was truly a high point in my life. It's a book that sold so well it was out of print within months of its release, helped by my many sisters suppling copies to friends and the wider family members. A book which, due to demand was reprinted on the tenth anniversary of its original release. I know that many of my friends & family have kept their original copies, but what about the next generation? Surely they have a right to read for themselves what their elders got up to in the sunny land down under!
To order your copy, personally signed and post-free, or to obtain a Kindle version, visit www.margaretsherlock.net
Remember the opening line EVERY PICTURE TELLS A STORY... Do you have a story behind an intriguing photo?