Latest Release, an autobiographical account of life's beautiful journey.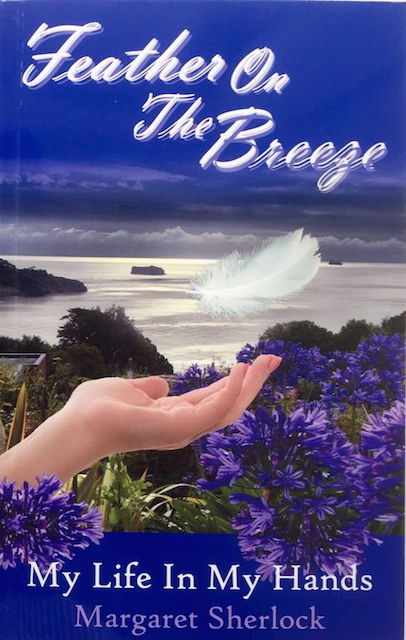 Feather On The Breeze Available in Paperback & Kindle
Released August 2019 ISBN: 978-0-9955551-6-7 PRICE £7.99
POST-FREE IN UK AND PERSONALLY SIGNED,

TO PLACE AN ORDER, CLICK ORDER NOW BUTTON & CONTACT ME DIRECT

SYNOPSIS
HUMBLE BEGINNINGS SHOULD NEVER DEFINE AN INDIVIDUAL, NOR SHOULD THEY BE ASSOCIATED WITH LACK OF OPPORTUNITY.
FROM AN EARLY AGE, I DISCOVERED THE BENEFITS OF GOOD SCHOOLING. REALIZED THAT WITH SELF-DETERMINATION AND A FAIR SCATTERING OF OPPORTUNITIES, LIFE COULD BE FILLED WITH CREATIVITY AND INCREASING FULFILMENT.
BUT SEVEN DECADES OF ACCELERATED CHANGES — CHANGES THAT HAVE NOT BEEN BENEFICIAL TO ALL — CAN ALTER THE DYNAMICS OF WHAT WAS A FAIR SOCIETY. THIS BOOK PORTRAYS SOME STARK REALITIES OF THE MODERN AGE. THE ENCROACHING GREED OF THE BANKING SECTOR AND BIG BUSINESS. SELF-INTEREST AND POLITICAL SKULDUGGERY, LEADING TO DIMINISHING DEMOCRACY. ALL CULMINATING IN THE ALIENATION OF THE HARD-PRESSED WORKING CLASSES, WHICH ARE THE BACKBONE OF OUR COUNTRY.
A BABY BOOMER'S PERSPECTIVE ON SEVEN DECADES OF CHANGE
Introduction To Feather On The Breeze
I stood before the open french doors, a warm breeze caressing my face, my mind empty in abandon. A white downy feather, discarded by its host, floated by in the air; dipping and twirling in a dance of freedom, seemingly enjoying a life of its own. Entranced, my eyes followed its lead as it sank slowly down, resting awhile on a large leaf of the chestnut tree. The breeze gave a sigh and once again the feather soared on the thermal lift.
Watching the feather brought to mind my own life — everyones lives — a mixture of ups and downs, trials and tribulations, joys and sorrows as we each progress along our individual journey. I'd been toying with the idea of writing an autobiography for years. Why, was never really clear. Maybe it was vanity? The need for gaining recognition, whilst fooling myself into believing it was for the benefit of my children and grandchildren. I knew nothing of my own mothers hopes and aspirations before marrying my father at the age of eighteen, subsequently producing a family of thirteen children. She died suddenly in 1998 at the age of seventy-seven and my saddest regret was not having made the effort in pursuing the inner person behind the mother. Later, as the urge grew stronger to publicise my own aspirations and short comings, I would tell myself it was to lay bare the accelerated social changes that have taken place over the past seven decades. Also, on an even more personal level, I would goad and taunt myself that if I didn't make a start soon, I probably wouldn't be able to remember the salient facts that have given my life meaning. Maybe the desire to write this book is a mixture of all the above.
The feather appeared again, almost in touching distance, light and delightful as it performed its air dance, apparently for my eyes only. The breeze eased, and gradually, entrancingly, it drifted downward, settling on the ground.
At that same moment, my neighbours car sped down the long, shared drive; its fat, heavy tyres crushing the downy white feather into the gravel... Abruptly ending its life's dance!
I knew then, it was time to start writing about my own life's dance.
---
---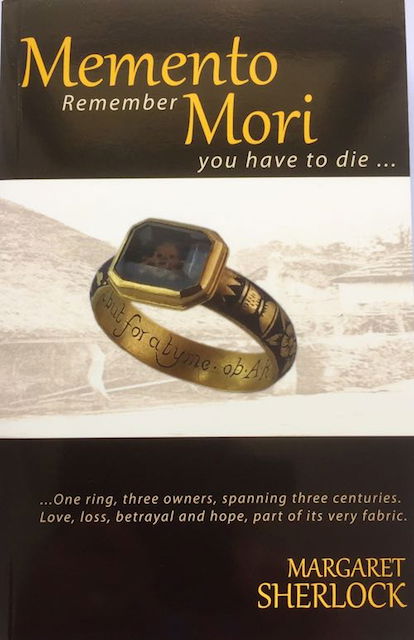 Memento Mori, Available in Paperback and kindle
Released November 2015 ISBN: 978-0-9559710-8-2 PRICE £7.99

TO PLACE AN ORDER, POST-FREE IN UK & PERSONALLY SIGNED,
CLICK ORDER NOW FOR DIRECT CONTACT

A gripping, intriguing thriller set in the ancient village of Cockington and rich in historical detail.
Gold rings can survive for hundreds of years, holding secrets that pass unknown from owner to owner.
This unusual tale, spanning three centuries, gradually reveals the meaning behind five simple words engraved on the inside of this jewel of death.
The ring, given in love, worn in loss and then hidden in guilt, becomes an immensely significant feature in the disparate lives of three groups of individuals.
Edmund Rowe, Digory Grimshaw, and Kate Radcliffe, their lives dramatically influenced by this inscribed band of gold.
For personalized signing of any of the above books, contact — margaretsherlock@hotmail.co.uk

Also available from Waterstones Torquay and all good bookstores nationwide.
Readers Book Review
By Clare Bailey of TORBAY TIMES — January 2016
BOOK: MEMENTO MORI—ISBN-9780955971082
AUTHOR: MARGARET SHERLOCK
This is the fifth book written by the accomplished Torquay author Margaret Sherlock, and I am delighted to be able to inform avid readers everywhere that she has undeniably surpassed herself with this latest interesting work. Make no mistake, this is a very well written and utterly compelling book, and I thoroughly recommend that you waste no time in acquiring a copy as it will absorb your attention from cover to cover.
In brief, this remarkable and enthralling story Margaret Sherlock has diligently created for our enjoyment commences in 1705 in the pretty and historic village of Cockington and is centred round an unusual inscribed gold ring, which over the course of three centuries, becomes an immensely significant feature in the disparate lives of three groups of individuals.
Margaret Sherlock is undoubtedly a gifted storyteller who has written an enchanting and intriguing tale of unique narratives, rich in historical detail, relating to the ongoing happenings that inevitably surround the ring.
I sincerely doubt you will read a better book this year.
---
---
THE LYN PORTER TRILOGY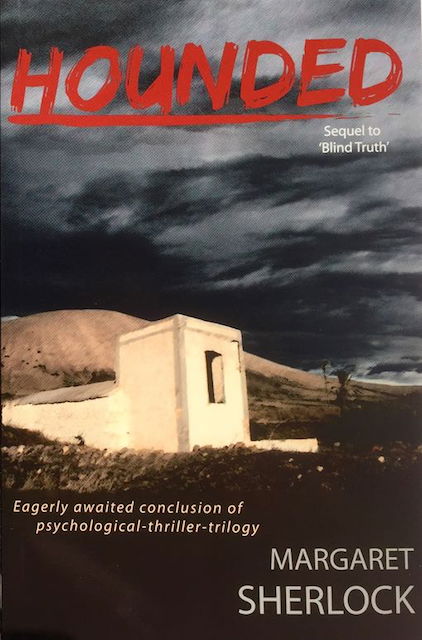 HOUNDED — PART THREE IN THE LYN PORTER TRILOGY
ISBN: 978-09559710-6-8 PRICE £7.99

SPECIAL OFFER!
TO PLACE AN ORDER FOR ALL TRILOGY, 3 BOOKS FOR PRICE OF 2,
POST-FREE IN UK & PERSONALLY SIGNED, CLICK ORDER NOW BUTTON
SYNOPSIS
On a weeks holiday to the sunny island of Lanzarote, Lyn Porter discovers there's more to this sub-tropical paradise than sun and sangria. Venturing alone in its rugged terrain, she becomes trapped in a darker, more sinister dimension. Can she survive the most terrifying night of her life?
Meanwhile, in the chill and damp of Devon, the incorrigible Vinny Conway, unable to resist the lure of buried gold, lays himself open to an unfathomable assault.
Interlinking motives, unfulfilled desires and broken promises, keeps the reader riveted to the very end.
Madness and badness, conclude this thrilling, chilling. three-book saga.
Also available from Waterstones Torquay and to order from all good bookstores nationwide.
SPECIAL OFFER —All three books in trilogy for the price of two
---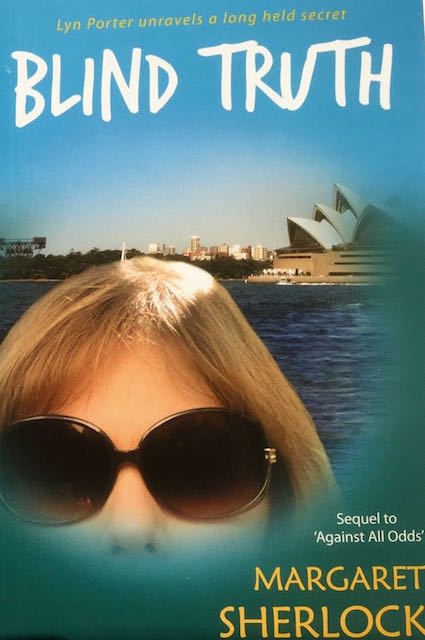 BLIND TRUTH —PART TWO IN THE LYN PORTER TRILOGY
ISBN No—978-09559710-3-7 PRICE £7.99

SPECIAL OFFER: TO PLACE AN ORDER, 3 BOOKS FOR PRICE OF 2,
POST-FREE IN UK & PERSONALLY SIGNED,
CLICK ORDER NOW BUTTON TO CONTACT ME DIRECTLY,
SYNOPSIS
One year on, and the chance to uncover the long held secret of Lyn Porter's parantage, compels her to travel to Australia, putting at risk her recently acquired sense of security. Once there, Lyn is castigated by her own flesh and blood, leaving her to wonder if the sacrifices have been worth it.
Meanwhile, back in the English Riviera town of Torquay, corruption expands into marriages of convenience, kidnapping and attempted murder.
Can a well-respected solicitor afford to get involved? James Fairbank doesn't really have a choice.
Also available from Waterstones Torquay and to order from all good bookstores nationwide.
SPECIAL OFFER — all three books in the trilogy for the price of two

---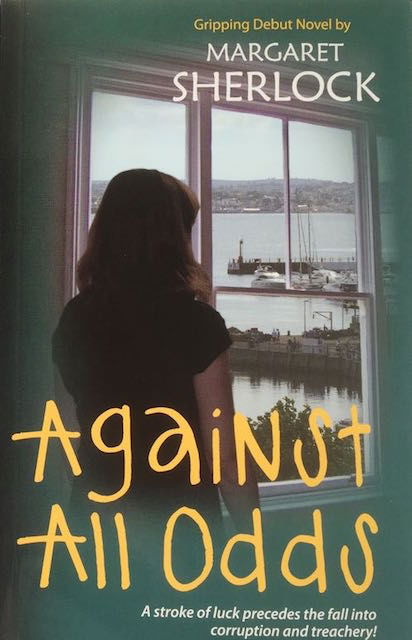 ISBN: No—978-0-9559710-2-0 PRICE £7.99

SPECIAL OFFER! ALL TRILOGY 3 BOOKS FOR PRICE OF 2
TO ORDER, POST-FREE IN UK AND PERSONALLY SIGNED,
CLICK ORDER NOW BUTTON TO CONTACT ME DIRECTLY,
Against All Odds
After the success of SEVEN SISTERS DOWN UNDER, I felt drawn into the exciting realm of fiction and soon began writing my first novel AGAINST ALL ODDS, first in a trilogy of psychological thrillers. Published in 2011. AGAINST ALL ODDS is set in Torquay where the three main characters live:
SYNOPSIS
Raised by a domineering and secretive grandmother, widowed suddenly at 37 and then made redundant during the 'credit crunch' of 2008, Lyn Porter's life was never going to amount to much. Then fate deals a hand which reverses her dim prospects and entangles her in a murky world of greed, deception and treacherous underhand dealings.
Behind the scenes and pulling the strings, lies a rogue banker and his greedy accomplice. The former delights in wrecking people's lives, the latter is stupid enough to think he's improving his own.
In spite of their different backgrounds, James Fairbank, an eminent solicitor, is drawn into the fray.
Is it possible for a spark of romance to ignite under such dark circumstances?
Also available at Waterstones Torquay and to order from all good bookstores nationwide.
SPECIAL OFFER, all three books in the trilogy for the price of two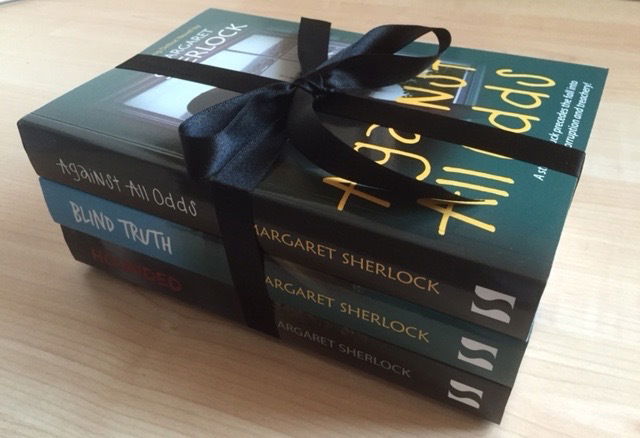 FREE-POST IN UK, PERSONALLY SIGNED AND GIFT-WRAPPED IF PREFERRED

---
---

First released 2008, Second Edition, 2018 ISBN: 978-0-9955551-5-0 PRICE £7.99

TO ORDER A COPY, POST-FREE IN UK AND PERSONALLY SIGNED,
CLICK ON ORDER NOW BUTTON FOR DIRECT CONTACT

My venture into writing was not consciously planned. During 2005, I joined five of my sisters on a visit to Australia where our seventh sister has lived for many years. Our expectations of this Trip Of A Lifetime — three weeks filled with sun, fun and renewed family bonding — turned out to be very different. Jetlag, cramped accommodation and seven very different personalities, led to more than a few bizarre happenings. A journal was kept on these day to day happenings, encapsulating the humorous shenanigans of sibling rivalry and resistance to a pecking order that had subconsciously survived the decades.
On my return to England, this journal was the basis for my first book, SEVEN SISTERS DOWN UNDER. This book was a great success, and from then on, I was hooked on the creative joy of writing.
SYNOPSIS
SIX ENGLISH SISTERS HEAD OFF ON A 'TRIP OF A LIFETIME' TO SYDNEY WHERE THEIR SEVENTH SISTER HAS LIVED FOR MANY YEARS.
TOO MUCH LUGGAGE, LOW-BUDGET ACCOMMODATION AND SEVERAL DAYS OF JET LAG, ADD TO THE TENSIONS AND CONFLICTS OF SEVEN VERY DIFFERENT PERSONALITIES.
THIS TRUE STORY, IS ONE SISTER'S ACCOUNT OF THEIR DAILY ANTICS. ANTICS THAT HELP TO PROPEL HER THROUGH A MORE PERSONAL JOURNEY OF SELF-DISCOVERY.
CLIMB ABOARD THIS ROLLERCOASTER RIDE OF TENSIONS, DISAGREEMENTS AND HILARIOUS HAPPENINGS.
---
---
MY ADULT BOOKS ARE ALSO AVAILABLE ON KINDLE.
CLICK ON THE LIVE LINK PRICE BELOW EACH BOOK FOR DIRECT ACCESS TO AMAZON PAGE.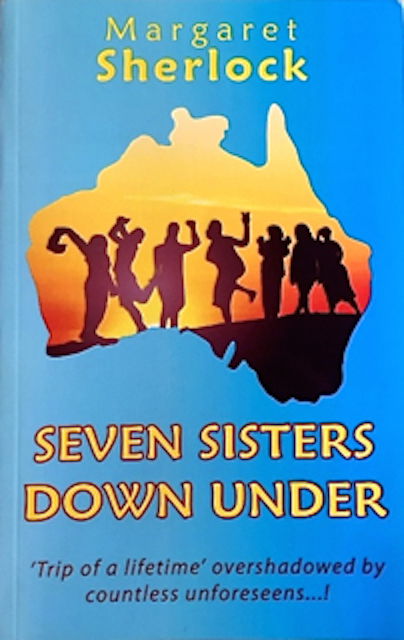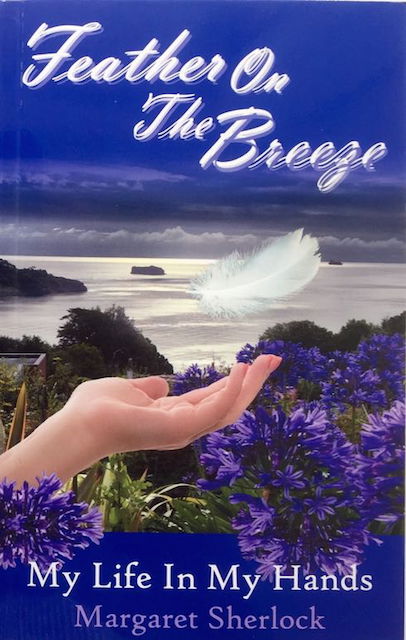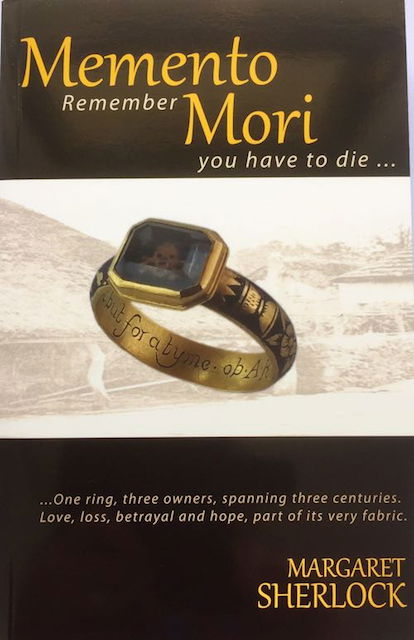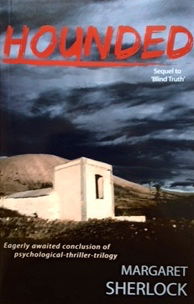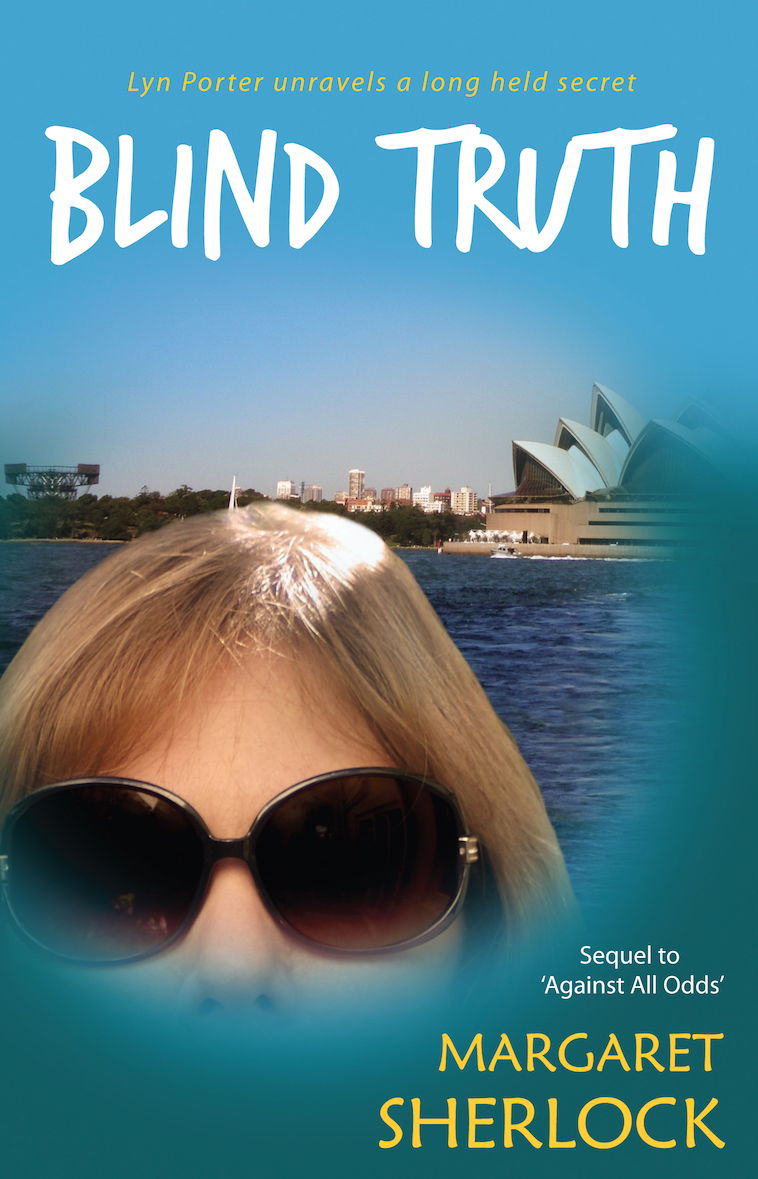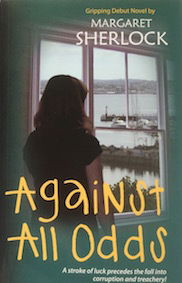 ---
---
WITTY GRITTY RHYMING TALES FOR EAGER BEAVER READER
Since late 2016, I've been having great fun writing a series of Witty Gritty Rhyming Tales for children age 6—9yrs. There are five in the series, all beautifully illustrated. This series of Rhyming Tales are interactive, allowing young readers to write an additional ending verse. Why not encourage the young ones, in fact why not encourage the whole family to indulge in the joy of rhyme. It really is great fun!
SYNOPSIS — JOE AND THE BLIND GOBLIN
Up in the highlands of a place far away, lived a blind goblin who slept through the day.
At the strike of seven he'd rise from his lair and head down to the village sniffing the air.
With a grumbling belly and a hopeful mood, he relied on his snout for finding his food.
His favourite were young children, plump and sweet, the food that they ate made the best tasting meat.
The mayor of this land, concerned and afraid, at the parents' revolt and the threats being made.
Placed posters telling of a generous reward for the person who ended this evil abroad.
An unlikely champion came to the fore, a fourteen-year-old goatherd whose name was Joe.
If they followed his plan, without any doubt, kidnaps would cease and the goblin driven out.
But not all went according to plan...

Joe and the Blind Goblin — PRICE £4.99


CLICK ORDER NOW FOR DIRECT CONTACT, & PERSONAL SIGNING.

---
---
ROSIE AND THE ROGUE SEAGULL

Synopsis
Miles from the sea in a small sleepy village, a seagull arrived that did nothing but pillage.At the break of dawn, its squawking and squealing, would rouse the villagers and they'd begin screaming."We must put an end to this awful intrusion." Some saying shooting was the only solution.Waste bins were raided causing litter strewn about. Picnics were robbed by this great feathered lout.Freshly washed cars and windows were splattered, the bird wheeled around as though nothing mattered.
But try as they may the locals couldn't get rid, of this outrageous gull that became known as, Sid.
A nine-year-old girl, whose name was Rosie, had been watching the gull and studying it closely.
Finding a flaw in this creature so bold, she decided to test it, but then placed it on hold.
For the plan to succeed and be rid of this bird, she'd need to get money and she'd need to be heard.
But would anyone in the village take her seriously…
Released-2017 - PRICE £4.99

TO PLACE AN ORDER POST-FREE IN UK AND PERSONALLY SIGNED,
CLICK ORDER NOW FOR DIRECT CONTACT TO ME
Also available from Waterstones Torquay and all good bookstores nationwide.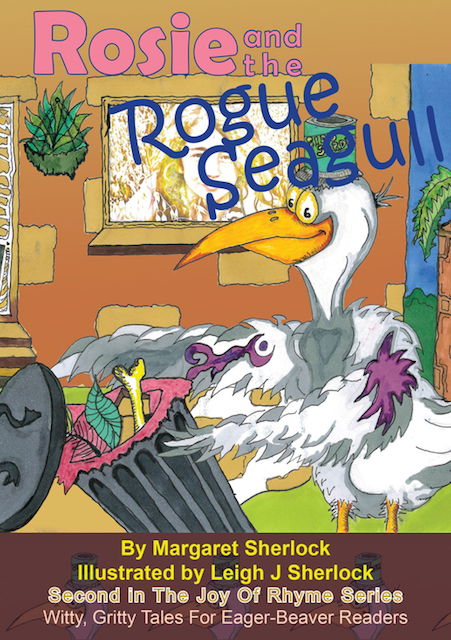 ---
---
Mutiny Of The Skinny Guinea PiG
Synopsis
In a large sunny garden on the edge of a town, Vinny, the skinny guinea pig, raced up and down.
It was the start of school holidays so Josh was at home. And the rodent was happy not to be on his own.
Josh was a wonderful master, sensitive and kind. Until a certain girl named Maisey, poisoned his mind.
Staying with grandparents in the house next door. She was expected to be there for three weeks or more.
But after just a few days, Vinny noticed a change. His feeding became erratic and his cage smelt strange.
Maisey was insulting, screaming 'Vinny is a freak, he's completely naked except for hairs on his cheek!'
Getting thinner and thinner was changing his shape. In order to survive, Vinny would have to escape.
Then a plan filled his head which made him feel good. He would do it that night and run as far as he could.
Josh wouldn't even notice until Maisey had gone home. Then he'd know what it felt like to be on your own.
But Vinny, the skinny guinea pig, was in for a big surprise...
RELEASED 2017 PRICE £4.99

TO PLACE AN ORDER, POST-FREE IN UK & PERSONALLY SIGNED,
CLICK ORDER NOW BUTTON FOR DIRECT CONTACT


---
---
The Beggar And The Gourmet Rat

Synopsis
Below the paved streets of Old London Town, a network of tunnels run deep underground.
Part of this network supports the town's sewers, and is kept out of sight to casual viewers.
In this dark, damp terrain live thousands of rats. For sewers are known as their best habitats.
Above the paved streets of Old London Town, a beggar, down on his luck, sat moping around.
In response to his cries, 'Please spare the odd coin." He was met with blank eyes and faces of scorn.
Feeling disheartened with just offerings of food, he turned to the wall in a darkening mood.
Close to the place where the beggar squatted low, a hole in the wall was starting to grow.
Then out popped the head of a rat with no fear, twitching its snout at a scent that was near.
It could smell bread, ham, lettuce and butter, a discarded sandwich thrown in the gutter.
The rat ran to retrieve it but a black bowler hat, suddenly descended, trapping the rat…
RELEASED 2018 -ISBN: 978-0-9955551-3-6 PRICE £4.99

TO ORDER, POST-FREE IN UK AND PERSONALLY SIGNED,
CLICK ORDER NOW BUTTON FOR DIRECT CONTACT
---
---
The Witch At Stitch Cottage
Synopsis
For many generations a family of stitchers, lived happily in a cottage renowned for its fixtures.
It had internal oak beams from ceiling to floor, supporting a thatched roof and a solid front door.
With small panelled windows to the right and left, it had never been vulnerable to burglary or theft.
It was a widely known fact this home held a treasure. An old silver thimble with power of such measure,
When worn by a stitcher, whosoever they may be, whatever was imagined this thimble was key,
For producing fine work of a level so grand, the folks at Stitch Cottage became the best in the land.
In a neighbouring county lived a devious witch.Forever dreaming and scheming on how she could snitch,
This magical thimble, which would help in her plotting, to be rid of the family, then there'd be no stopping,
Her seizing the cottage along with its treasure, Empowering her life with profit and pleasure.
Finally, the day arrived when the witch had a workable plan...
RELEASED 2019-ISBN: 978-0-9955551-7-4 PRICE £4.99

To ORDER, POST-FREE IN UK AND PERSONALLY SIGNED,
CLICK ORDER NOW FOR DIRECT CONTACT TO ME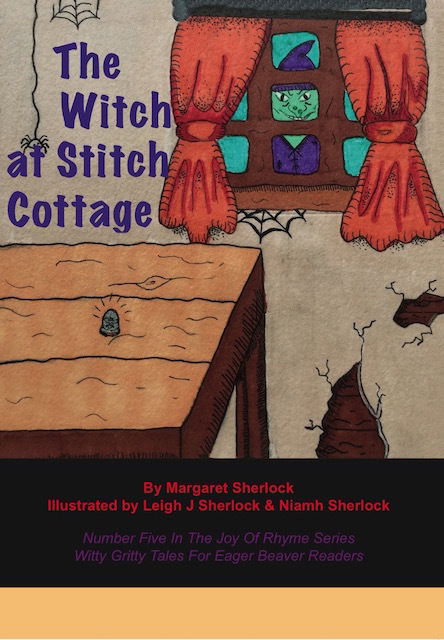 Buy All five Books In The Series & Get A Free Copy Of Junior Rhyming Dictionary
To Encourage Budding Poets Of All Ages